Controversial Ad in Los Cerritos Community Newspaper Targets Cerritos City Council Candidate about "Marital Affair"
Published on January 25th, 2013
Written by: Brian Hews
By Randy Economy
A graphic two page advertisement in Los Cerritos Community Newspaper on Friday (January 25, 2013) has created a huge reaction throughout Southern California and beyond.
On Friday, Cerritos resident Young Park paid for two full page ads that discussed in graphic details his version of a past relationship between his ex-wife and current ABC School Board Member James Kang.
Kang is a current candidate for Cerritos City Council in the upcoming March 5 election.   Publisher Brian Hews made the decision on Friday afternoon to release the contents of the ad to other members of the media and on line.
"Los Cerritos Community Newspaper and Hews Media Group are not responsible for the contents of this advertisement.  It was a paid ad from Mr. Young Park from Cerritos who visited our offices on different occasions prior to it being published," Hews said in a statement.
Below is a copy of the ad: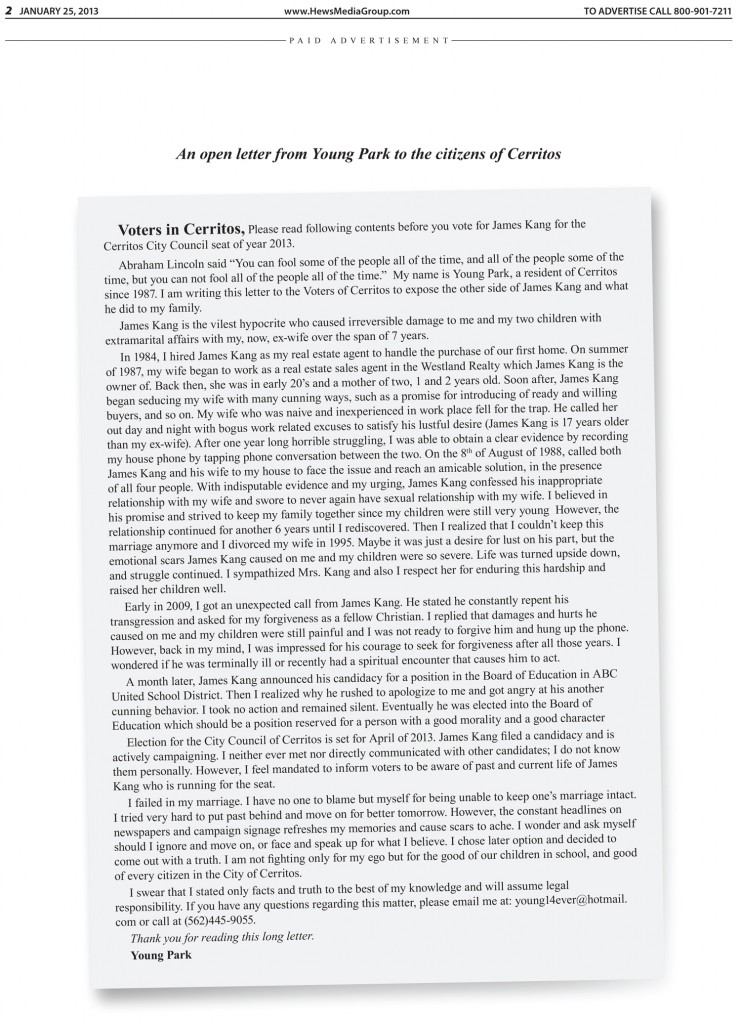 Comments
comments
Powered by Facebook Comments
8 Comments
Leave a Reply