Kang Endorsement Mailer Disputed
Published on January 15th, 2013
Written by: Brian L. Hews
By Randy Economy
More than 3,000 voters in Cerritos on Monday received a mailing from ABC School Board Member James Kang who is seeking a seat on the Cerritos City Council that touts an impressive lineup of community leaders whom he claims is supporting his effort in the upcoming March 5th Municipal Election.
The 8 ½ x 11 post card features a smiling Kang who touts his accomplishments in various local roles as a school board member, past president of the Artesia Chamber of Commerce, founding chair of the Whitney Foundation for Education Excellence and many other high profile groups and organizations.
On Tuesday Kang admitted to Los Cerritos Community Newspaper that many of the names on his list are in fact "not endorsing" his campaign. Kang offered little in the way of an explanation or to clarify how the list was gathered, and who in his campaign staff was responsible for creating the campaign mailing.
"I didn't misuse these names, it was a miscommunication from my campaign," Kang told LCCN in a phone interview.
"I will be blacking out the names of these people on the list who are not supporting me and I will be sending out a new one to voters," Kang said.
When asked to explain in greater details how the mailing was created, and who was specifically supporting his campaign, Kang quickly responded by saying that "this is a personal and private matter, and I do not want to talk about this in public."
Names that appeared on the list include former Assemblyman Tony Mendoza, current Cerritos City Councilman Mark Pulido, former Mayor Laura Lee, ABC School Board Member Maynard Law, Artesia City Councilman Tony Lima and ABC School Board Member Armin Reyes who is currently serving in the Middle East with the US Army Reserves.
Pulido, who won his bid for a Cerritos City Council slot just two years ago with the largest vote total in the history of the city, told LCCN in an interview that he "does not support James Kang for Cerritos City Council, period."
"I am only supporting Frank Yokoyama, who is my Planning Commissioner and a lifelong friend of mine," Pulido said. "This is a question about leadership and transparency, and accountability,"  Pulido commented.
Pulido said he even called Kang and told him to remove his name from any future mailings.
Levi Javier, a member of the Cerritos Property Preservation Commission is another well-known name on the Kang endorsement list who said was not supporting Kang.
"I called Mr. Kang on Tuesday morning to tell him that he did not have authorization or permission to use my name as a supporter.  I am not supporting James Kang." Javier said he is supporting Planning Commissioner Frank Yokoyama.
In the mailing it is stated to voters that "James Kang is a proven leader and a dedicated servant of the community."
"James Kang is ready to move forward to the next community challenge," the mailing claims.
Below is a copy of the campaign mailing.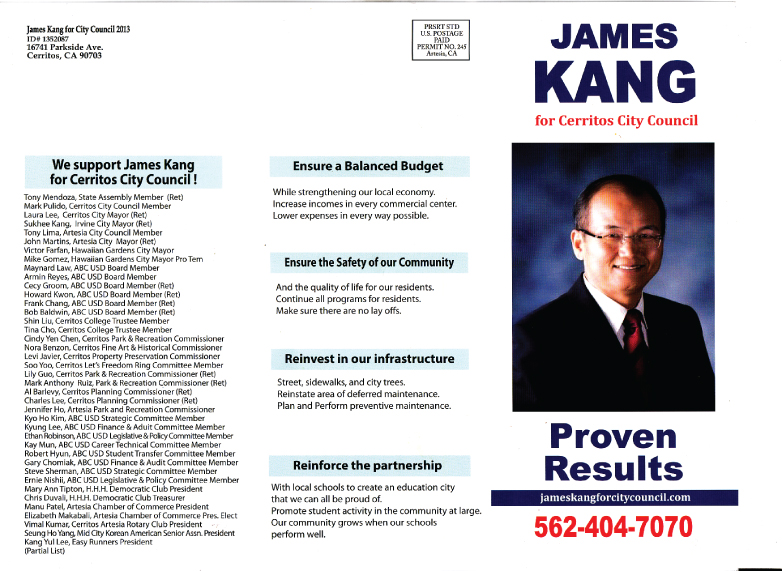 Comments
comments
Powered by Facebook Comments
2 Comments
Leave a Reply